In Hungry Shark Evolution, biplanes are aggressive enemies found in outer space. Upon detection of the player's shark, they fire bullets or lasers. Biplanes are relatively difficult to catch, and are unaffected by the vortex.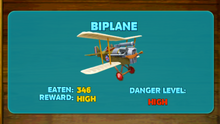 Biplanes are classed with a "High" danger level and "High" reward level.
Method for Attacking
A jetpack is advised when attempting to eat biplanes, unless using a Pyro Shark or Robo Shark.
It is possible to defeat biplanes without jetpacks, however. They can either be lured, or eaten from above, by way of "falling" on top of them. The latter strategy involves landing your shark atop the biplane. It will spin and shake your shark off. You will then crash into it again, making it explode. To lure it, find one, let it shoot at you, and try to land on shallow water. You will start seeing bubbles go through the water. Catch it by boosting to the plane. (Make sure you know all the turbine locations)
Shark Week Biplanes
In the Shark Week 2017 update, the alien planet was replaced by Shawaii. Biplanes also appear in this dimension. They are blue, harmless and have a banner with Shark Week written on it. those planes are easy to catch with Megalodon and above. Great white is also able to catch one, but harder than with Megalodon and above.
Trivia
Planes keep shooting bullets at you even after leave space, sometimes skimming the water, plus, it seems like the shots can pass through rock.
They're are also called biplanes by the game's museum.
Eating a gold biplane will give you 300 coins.
They have a small chance of giving you a gem.
Community content is available under
CC-BY-SA
unless otherwise noted.