"
Cuts through vehicles and prey with its wheel of teeth!
"
 

— In-game description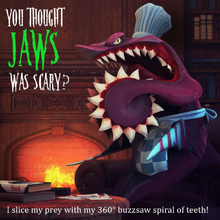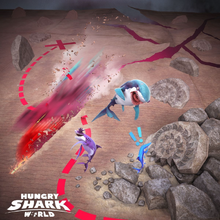 Buzz (Helicoprion) is the sixth !! "shark" in Hungry Shark World.
Buzz was the first shark introduced into the game that requires collectibles to unlock. He was added in the 2017 Shark Week update along with Snuffy (pet seal) and two new power-ups: the Treasure Detector and Flying Pets.
It can be purchased with 650,000 coins or 1,500 gems, after unlocking by collecting 100 fossils.
Description
Like any other !! shark, it can equip up to 3 pets at a time and can break purple crystal walls. During gold rush, its points multiplier is 8X.
Abilities
He has a "buzzsaw" made of teeth, skin, and gums. He can also cut through submarines and helicopters, and quickly grind through other sharks, whales and colossal squid tentacles. This is sepecially useful since submarines, helicopters, whales and colossal squid tentacles are hard to get through (they take a lot of time to eat or destroy). It also grips onto vehicles and prey, slicing them into bits.
Diet
Buzz can eat anything except for red jellyfish, king jellyfish, proximity mines, mega mines, and ultra mines. 
Can break pink crystals. 
Unlocking
Buzz can be unlocked after getting 50 fossils which will only appear after getting the Megalodon. After getting 50 fossils you can buy Buzz for 650,000 coins or you can just skip all this process of getting fossils and saving up enough coins to buy him and just purchase him using 1,500 gems.
Pros & Cons
Pros:
Buzzsaw of teeth capable of decimation of choppers, subs, and Colossal Squid's tentacles
Very high bite stats
Never encountered as an enemy
The saw of teeth works when you boost
Useful in eating contests
Very useful if trying to destroy the Deep Sea Sub
Health doesn't drain very quickly same as Megalodon (HSW)
Has an amazingly powerful bite
Cons:
Slow speed, may not be useful for distance contests
Very large body makes it hard to go through small cracks
Takes a long time to get to the max level
End-game, so high cost. Even more expensive than Mr. Snappy which is after the shark.
Costs a lot to upgrade
Stats
HP (Increase by Level)
Level:
1
2
3
4
5
6
7
8
9
10
HP
397
399
402
405
407
410
412
415
418
420
Level:
11
12
13
14
15
16
17
18
19
20
HP
423
426
Level:
21
22
23
24
25
26
27
28
29
30
HP
Speed, Bite & Boost Upgrades
Level:
0
1
2
3
4
5
6
7
8
9
10
Speed

241

249

257

265

273

281

288

296

304

312

320

Bite

466

469

473

476

480

483

486

490

493

497

500

Boost

366

374

382

390

398

406

414

422

430

438

446

Cost:

✕

3,000

5,000

7,500

10,000

15,000

20,000

25,000

32,000

40,000

50,000

Total Cost:

207,500 × 3 = 622,500 coins
Trivia
Buzz probably isn't actually a shark. A recent study showed that helicoprion was not a shark but a member of the ratfish family.
The actual appearance of the helicoprion's lower jaw is still heavily debated, as scientist still speculate if the helicoprion had a long prehensible lash that could be swung about amongst a shoal of fish, a tight tooth whorl, or a tight tooth whirl situated within a small lower jaw. However, scientist are more convinced with the latter theory.
The real size of Helicoprion is uncertain, as the largest confirmed tooth whorl indicates a 10-meter animal, but a larger (though incomplete) tooth whorl may indicate an animal up to 12 meters.
Buzz is the third to last !! shark to be unlocked in Hungry Shark World and the third purple shark to be introduced into the game.
Community content is available under
CC-BY-SA
unless otherwise noted.