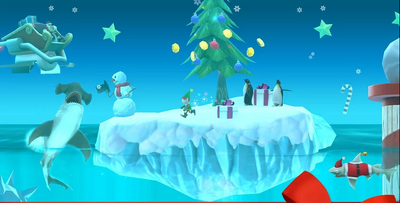 The Christmas Wonderland is a special area in Hungry Shark Evolution that allowed the player to switch from the conventional map each time his/her shark ate an elf. You can now only get to the Christmas Wonderland through the Arctic Portal. However, there were boundaries to this area that prevented you from travelling more than 50 metres underwater. Most of the objects as well as creatures in this area were Christmas themed and modified to be well suited with the icy landscape such as Santa Sleigh's, Ice Sharks, Snowmen, Elves, candy crafts like chocolate coins and many more.
Many of the features in the Christmas Wonderland drew inspiration from regular elements in the game. The Snowman, for example, had a resemblance to a Harpoon Boat in that it launched projectiles at your shark when in range, and appeared very still when your shark was out of range. 
Special Companion
This Christmas event also introduces a brand new baby shark that is named the "Santa Baby". This baby shark once bought with 60 gems is available for all of your standard (and prehistoric) sharks. This shark also can be used with other babies without A shark signal, which is unusual in the fact that this also works with other special babies (like the baby lava shark).
Reaching Christmas Wonderland
The only means of travelling to Christmas Wonderland is by eating an Elf in the normal map. This transports you to the Christmas Wonderland, and a timer begins counting. The timer lasts 20 seconds, and those 20 seconds are the duration of time your visit to Christmas Wonderland will be. When the timer reaches 0, you will be returned to the normal map. However, you can also eat more Elves in the Wonderland. This will add another 20 seconds to the timer. Eating more Elves in the normal map will take you back to the Wonderland. Note that since elves were removed, this is no longer possible.
Trivia
The Christmas Wonderland was limited-time, but now lives on as the basis for the new Arctic Land, which is expected to be a permanent feature of Hungry Shark Evolution. The Arctic Land is almost exactly the same as the Christmas Wonderland in every regard, except for some minor differences. It even shares the Christmas theme of the Wonderland. The Wonderland has more decorations.
The wonderland could also spawn Bad Santas, which no longer exsist. Bad Santas were the same as helicopters, o my with a different texture and a slightly different hitbox.
Community content is available under
CC-BY-SA
unless otherwise noted.