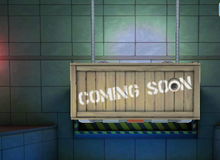 The Box or Coming Soon Shark was a box that contains a new shark special shark in Hungry Shark Evolution. It is no longer available.
It costed only 1 coin or gem which is because is useless.
Description
Appearance
It's a wooden box labeled "Coming Soon" with an eye as an "o" letter.
Special Power
It not have any powers, it just a box. When you play it, you can only move its head left or right facing down. And when sinks down to the bottom, it will stay without doing anything. They were used for april fools day by FGOL and later the Box got replaced with the new Pyro Shark.
Trivia
You could only play as the box for up to 45 seconds per session when it was in the game as you weren't able to eat any prey with it.
Gallery
Community content is available under
CC-BY-SA
unless otherwise noted.