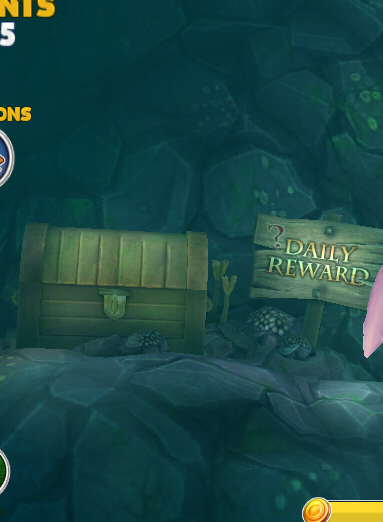 The Daily Bonus is a chest from Hungry Shark Evolution that rewards you with coins and gems when you visit it once a day. The rewards become consecutively better and better until the fifth reward, in which the cycle will reset and you will start with the first reward again.
The rewards from the Daily Bonus become less and less important as you progress in the game. As you unlock more powerful sharks, you will be able to earn coins at a rate that makes the Daily Bonus rewards, even the gem rewards, very insignificant. 
Rewards
The Daily Bonus gives the player some decent rewards. Here is a list of all the rewards from the Daily Bonus:
After day 5 or a day of inactivity, the bonus resets to Day 1. 
Finding the Daily Bonus
The Daily Bonus is represented on your map by a treasure chest. The easiest way to find the Daily Bonus is by using the Reef Shark, Megalodon, andLeo. Both sharks spawn to the right of the Daily Bonus chest, while Leo spawn to the left of the Daily Bonus Chest because of the cracked rocks to get it earlier.
Trivia
The Daily Bonus can be received multiple times in a day by switching on Airplane mode on your device, collecting it and changing the date forward. For a more detailed procedure on how to exploit this method to earn lots of coins and gems, see Method 2 of Gems/Guide (HSE).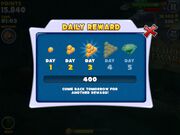 Community content is available under
CC-BY-SA
unless otherwise noted.