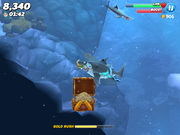 Description
Daily chests are chests that can be found daily for coins in Hungry Shark World. Five daily chests can be found in each location of the game. When opened, they give the shark around 1,000 coins. This amount of coins can be increased if the chest is opened in s gold rush or a mega gold rush. Daily chests can be found easily with premium maps due to the fact that they show the locations of all of the chests. There is also a timer for when the chests respawn.
Community content is available under
CC-BY-SA
unless otherwise noted.