The Exotic Bird is a bird from Hungry Shark Evolution. It has a high reward rating along with a danger level of Zero. It was introduced in the Independence Day update of July 4, 2014.
Value
The Exotic Bird gives 4,000 points when eaten. It may give a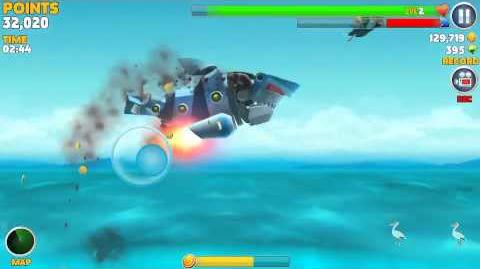 gem when eaten occasionally, on extremely rare occasions even several gems.
Behavior
These birds generally fly near pelicans. However, unlike the pelicans, they never touch the ground. Your shark (unless it is a Great White Shark or higher) must jump to eat it. The best way to see it is when there is a Harpoon Boat or other objects that zoom the screen out when you get near them. They are sometimes rare, and if you last long enough, you may be able to catch several in one run.
Trivia
They can be brought down easily by the Ice Shark's freeze breath, making an easy kill.
They're easy to catch with the Shark Vortex or jetpack.
They are very common by the Skull Island.
They can be found in pelican flocks.
Just a handful of these birds, eaten under the right circumstances, can trigger a gold rush for even the Megalodon and Big Daddy!
Even when brought down with the laser, the Electro Shark, or the Ice Shark, they will not appear to be landing.
they could be mutated pelicans.
Big daddy has an achievement called "Migration Annihilator" which requires the player to eat 20 exotic birds.
According to FGOL, the exotic birds are from the alien planet. Despite this, they don't seem to spawn there.
Community content is available under
CC-BY-SA
unless otherwise noted.