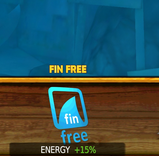 Fin Free
is an accessory in
Hungry Shark Evolution
that increases your equipped shark's maximum energy by
15%.
It puts a paper thin, rounded blue square around your shark's fin with the words "Fin Free" written in the bottom of the box. It was introduced in the Shark Week update. 
Fin Free 
was added into the game to discourage shark finning in real life, because you had to eat 50
Shark Finners
.
Method of Unlocking
To unlock Fin Free, you have to eat 50 Shark Finners (Those annoying people) ,making it one of the five items in the shop that can be obtained freely (the others being the Jetpack, Firework, Oceana, and the Gold Medal), and the only 2 items to be unlocked without paying a coin or gem, the other being the Gold Medal . Once you have met the requirements, you will unlock the Fin Free accessory.
Trivia
The Fin Free accessory may overlap with 1 other accessory (the Jetpack) in the dorsal fin "slot".
Fin Free was added to the game to discourage shark fining.
The method of unlocking Fin Free also discourages shark fining, since it involves eating Shark Finners.
Fin free is no longer attainable, and has been replaced with Oceana..
Community content is available under
CC-BY-SA
unless otherwise noted.