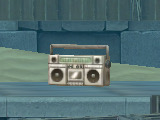 '
'
Ghetto Blaster
is one of the 15
sunken treasures
. It is a digital radio.
Location
It is one of the most difficult to reach, because it is located in the center of a beach, so, if you haven't got a Jetpack or a Skateboard you can only find it with the Great White, Megalodon, Big Daddy, Mr. Snappy, Alan, Moby Dick, Leo, Robo Shark and Pyro Shark.
There is nothing powerful guarding this sunken treasure. However, it's really hard to get without Great White and up. The Megalodon is the best choice for getting it.
Trivia
There is a glitch involving the Ghetto Blaster and the Treasure Map. The Ghetto Blaster sometimes remains on the Treasure Map even after it has been discovered and collected in a gameplay session. Normally, sunken treasures found in a gameplay session are wiped from the Treasure Map until the next game session begins.
There is a definition of Ghetto in the Urban Dictionary.
The Ghetto Blaster is not technically a sunken treasure, due to it being in the middle of a beach - above shore.
It was once known as the Boombox.
This is the only sunken item that is on land.
Community content is available under
CC-BY-SA
unless otherwise noted.