Hungry Shark: Night is the fourth instalment of the Hungry Shark series. It is set in a lake at night time.
Features
Hungry Shark: Night is an arcade style game with sounds, graphics, and high scores all reminiscent of old arcade games.
The game includes three playable sharks. The game's graphics are the first in the series to realistically represent the real life counterparts of aspects in the game. For example, the Hammerhead Shark in the game accurately resembles the real life Hammerhead Shark.
The game includes, like many of the other games in the Hungry Shark series, treasures to be found. The game also includes a massive variety of prey and predators which pose threats to your shark.
Sharks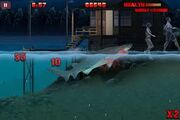 Hungry Shark: Night includes three playable sharks: the Hammerhead Shark, the Tiger Shark and the Great White Shark. However, only the Tiger Shark is playable at the start of the game. The Hammerhead Shark and the Great White Shark must be purchased with real money. It was once possible to watch videos to get the other sharks and gadgets, however this is no longer possible.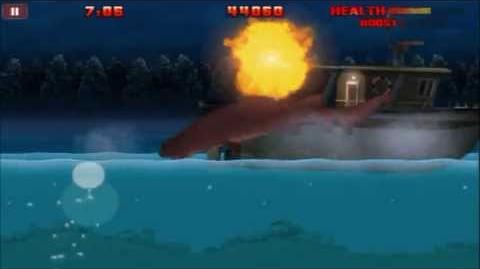 Differences from preceding installments
Some entities replace other entities from previous games.

Explosive barrels replace mines.
Ducks replace pelicans.
Golden fish replace turtles.
Some creatures are included in addition to the creatures from the previous instalments

The shark's death sound effect is changed.
The possibility to play with various sharks is added.
Trivia
It is advertised as Shark Night 3D.
None of the playable sharks can actually survive in freshwater, like the bull shark can.
This game has the least sharks.
This is the only game that has a proper night, aside from the night setting in the South China Sea map in Hungry Shark World.
This game is no longer available in the App Store and Google Play.
This game was released in a movie universe, based on Shark Night, released 2011 with the same premise - shark in a lake hunts humans.
Community content is available under
CC-BY-SA
unless otherwise noted.