Leo (Liopleurodon) is a "shark" in Hungry Shark Evolution. When fully grown he is 18 m which is the same length as Alan, Destroyer of Worlds. He is able to break parts of the map that have blue cracks on them and is able to break dark blue ice burgs in the arctic dimension. He can be unlocked for coins once you grow Moby Dick to max level.
Leo can be bought for 500,000 coins or 900 gems. For a year, he was the strongest shark, until he was replaced by Nessie (Plesiosaur).
Abilities
Smash rocks
Eat Mini-Subs
Built in vortex
Crawl on land
Drago vs Leo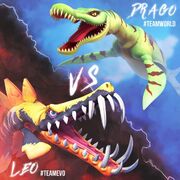 This is a common argument going on, about which game has the better Pliosaur: World (Drago) vs Evo (Leo). Hungry Shark posted it on their Facebook[1] and Twitter [2] pages, making the already raging arguement even more popular. Here are the traits of each shark, so you can decide for yourself:
Drago
Leo

Bends neck
Survives on land
Good bite
Moderate underwater speed, but good land speed
Moderate health drain
Bendable neck makes it easy to accidentally eat trash

Breaks rock
High health drain
Size of Alan

Winners
Winners haven't been announced yet, so it is unclear. A fair number of people went with Leo, but Drago is catching up. #TeamWorld or #TeamEvo!
Missions
Some mission can be hard without The Flea, cause of Leo's massive health drain at later stages other can require some luck. But most are pretty easy with late game equipment and some skill.
| Name | Objective | Reward |
| --- | --- | --- |
| Wall Breaker | Break through walls 100 times | 8,500 coins |
| Jurassic Shark | Survive for 45 minutes | 8,500 coins |
| Vacuum Sealed | Vacuum 300 enemies | 8,500 coins |
| Captain Ahab | Kill 5 Moby Dick enemies | 9,250 coins |
| Thick Skinned | Crash into 30 Ultra mines | 9,250 coins |
| Almost Extinct | Maintain critical health state for one minute | 9,250 coins |
| Million Dollar Dino | Collect 10 gems | 10,000 coins |
| Sharkpot | Maintain x8 multiplier for 3 minutes | 10,000 coins |
| Super Mission 11 | ??? | 100,000 coins |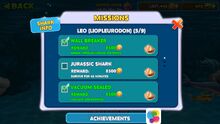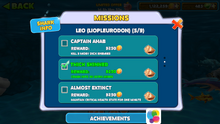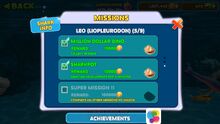 Pros & Cons
Pros:
Won't get stuck if it has to go through a tight space with a "cracked" rock
Doesn't have to boost to eat submarines
Can eat anything that other sharks have to get gold rush to eat
Since he is the size of Alan, he won't get stuck in tight spaces.
Able to go on land with no additional health drain
Cons:
More expensive than any other shark in the game (except Nessie who costs the same), including the specials.
Can only break cracked rocks
Mega Health Drain without The Flea
Can't go as fast on land compared to previous sharks
Gallery
Trivia
He is the only shark in the game that can get rid of Toxic Barrels and Volcanic Jets which he can do by smashing the rocks they're on.
He is the first shark to begin with the letter 'L'.
Despite the Moby Dick's maximum size being nearly three times Leo's maximum size, he can still be eaten, along with all other previous sharks.
He is one of the least oversized, next to Mr. Snappy who is 5m longer than a mosasaurus. Leo is 3× longer than a liopleurodon.
Despite being stronger than Moby Dick, he has lesser health.
His description says he is straight outta Nublar Island, probably referencing Jurassic Park, because Isla Nublar is where Jurassic Park (1993), Jurassic World (2015), and Jurassic World: Fallen Kingdom (2018) take place.
This shark is named after Leo, the constellation of the same name.
References
Community content is available under
CC-BY-SA
unless otherwise noted.