The Military Base is an area in Hungry Shark World located at the far left of the Arctic Ocean.
Description
The Military base is comprised of several houses and a pipe that leads into the water. The waters around the Military Base are filled with toxic barrels and mines. There is a small cave near the edge of The Military Base that will occasionally have one of the five daily chests.
Entities and Items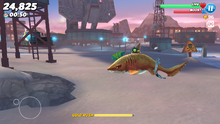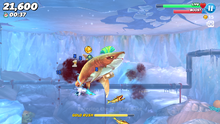 Sardines
Deep Sea Sub (Occasionally)
Military helicopter
Delivery drone
Single man sub
Mutant dolphins
Add any other entities or items you see on or around the Military Base.
Trivia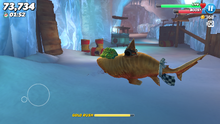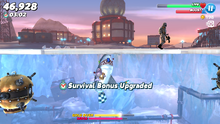 The Military base is the largest location in Hungry Shark World. It spans almost the entirety of the far left side of the upper Arctic Ocean.
The Tower on the Military base can be reached by a big shark as long as it boosts hard enough. Since great white and !! Sharks have special boost powers, getting on or above the tower should be easy.
There is a sign in the Military base that says " Trespassing will result in the use of deadly force. Have a nice day! Glutwell.corp". When you enter the web address, it will bring you to a picture of the flower on the sign.
Crates in the background can be found that have to label "Penguin Meat" on them, they use penguin meat to make splum.
Community content is available under
CC-BY-SA
unless otherwise noted.