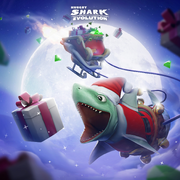 The Santa Baby is a unique, limited-time baby shark in Hungry Shark Evolution. It is unique in the sense that all normal sharks can equip it, and its size depends on the shark it accompanies.
This companion (once bought) is available for all of your Standard and Prehistoric sharks. Interestingly, it does not replace your normal baby shark, thus allowing you to have a pair of cute companions at the same time.
Obtaining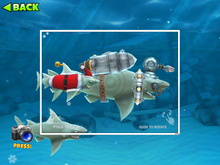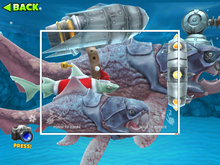 The Santa Baby costs 60 gems  to purchase. It is no longer available for purchase.
Abilities
The Santa Baby makes the player immune to all ice based attacks in the Christmas Wonderland and can be equipped alongside baby sharks as seen in the images provided.
It can also slightly decrease the shark's health drain.
Like all special baby sharks, its diet is based on the diet of its parent.
Trivia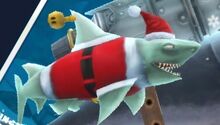 Interestingly, this baby shark is the first out of all baby sharks in which this particular companion can be equipped alongside other baby sharks as well as being able to be used by more than one shark.
The Santa Baby also resembles a Baby Reef Shark, with the addition of the slightly brighter coloration, the Santa costume, and the Santa hat. The Santa Baby can also eat a diet similar to what your shark's is. For example, if you have equip the Santa Baby whilst playing as a Great White Shark, the Santa Baby will be able to eat blue jellyfish like the parent creature.
However, the Santa baby's size can vary depending on what shark you play as. If you play as Big Daddy, the Santa baby will be the size of a Tiger shark. If you use a reef shark the Santa baby will be tiny.
Weakness
The weakness of the Santa Baby is that he sometimes can't eat certain enemy sharks. (Depending on the shark you choose.) For example, if you are using the Santa Baby alongside a Great White Shark, your Santa Baby cannot eat the Enemy Hammerhead, but it can however impede the Enemy Hammerhead's movement & be eaten by Great White, Megalodon and Big Daddy respectively.
Since the Santa Baby changes to match its parent, the Santa Baby becomes restricted to its parent's limits as well.
Community content is available under
CC-BY-SA
unless otherwise noted.