The Shark of Liberty is an in-game feature in Hungry Shark Evolution. It cannot be interacted with directly, however it can be constructed by locating and collecting all nine statue fragments. The statue appears on the island on the left of the island with the ferris wheel in the background. When a fragment of the statue is found, it is automatically added to the statue.
The statue is a light blue-grey in colour. Fragments of the statue include the torch and several shark body sections.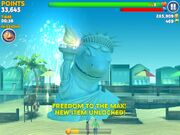 Effect
Once complete, passing the Statue will cause a display of fireworks to erupt into the sky. It also zooms the screen out majorly, more zoomed out than encountering Enemy Big Daddy 
Reward
Completing the Shark of Liberty statue rewards you with the fireworks accessory. This accessory increases your shark's boost speed by 50%. 
Community content is available under
CC-BY-SA
unless otherwise noted.