"
A hybrid between a shark and a chameleon, and a bit of a copycat too! Can absorb pyro, ice and electric shark abilities.
"
 

— In-game description
The Sharkeleon is the seventh Top Secret Lab shark to be unlocked in Hungry Shark Evolution. It was added to the game in june 2018. Its special power is mimic. According to FGOL's social media, this Sharkeleon is called Franz[1].
Cost
The Sharkeleon can only be viewed when the Top Secret Lab is unlocked with a high score of at least 350,000. Once an additional score prerequisite is met (scoring 750,000 points), it costs 180,000 coins or 900 gems[2] to purchase, which is a regular price for one of the newest Top Secret Lab sharks.
Abilities and Diet
The Sharkeleon is a pretty decent shark that begins every game at a medium size (about a Tiger Shark's). It grows rapidly, but growth is not saved. When the Sharkeleon eats a hostile special shark, it can steal its ability. Abilities can be stolen from the Ice Shark, Pyro Shark and Electro Shark this way. The ability to steal other special abilities is called mimic. Stolen abilities will wear off after about a minute.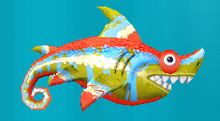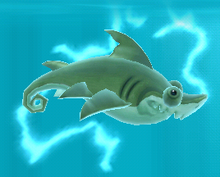 The Sharkeleon has an health bar that's competitive with the health bar of the best sharks in the game. However, the boost bar is similar to the Great White Shark's.
The Sharkeleon can't consume mines or extremely big enemy sharks. However, it can destroy vehicles and eat jellyfish right from the very start. When it hasn't stolen an ability, it can use stealth to become invisible for predators, resulting in less enemies that try to eat you.
The Sharkeleon is, on average, a pretty good special shark. Yet it's not nearly as good as the Ghost Shark or Wereshark.
Pros & Cons
Pros
Large diet, including vehicles and jellyfish.
Great health bar.
Decent boost bar.
Levels up very fast.
Has a stealth mode.
(Subjective!) Fun gameplay due to mimic.
Cons
Not versatile; cannot equip any accessories.
Mimic is not very strong.
Stolen abilities wear off.
Helpless on land.
Can't eat mines.
Expensive.
Does not save growth.
Missions
| Missions | Required | Reward |
| --- | --- | --- |
| What a Steal! | Steal abilities 50 times | 2 Gems |
| A Fin for a Fin | Kill 200 enemies with stolen abilities | 3 Gems |
| Shark Gear Solid | Maintain stealth for 2 minutes | 4 Gems |
| A Blessing in Disguise | Get 25,000,000 points | 4 Gems |
| Master Copycat | Reach Max Level | 5 Gems |
Gallery
Trivia
When Sharkeleton came out, the Arctic Land is replaced with the Titanic.
References
Community content is available under
CC-BY-SA
unless otherwise noted.