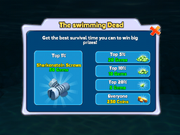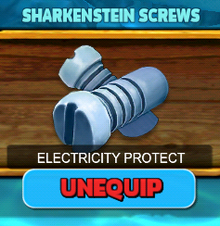 Sharkenstein Screws are a limited object in Hungry Shark Evolution. The Screws were first announced in Hungry Shark Facebook and Twitter posts at October 17th, 2018. The Sharkenstein Screws are the reward for the second event in the 2018 Halloween update: "The Swimming Dead".
Sharkenstein Screws protect you agains electricity. Equipping it disables the Shark Vortex as the Screws are worn at the very back of the shark's head.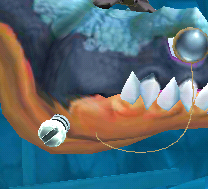 Obtaining
Only the top 1% of the players in "The Swimming Dead" event got the screws, without additional coin or gem cost. There is no other way to obtain this item, even though it was a temporary event.
Sea Harvester
Sharkenstein Screws are a crucial element of the "Sea Harvester" Halloween 2018 event. Players have to eat Zombie Sharks using the Sharkenstein Screws to compete in this event. 
Community content is available under
CC-BY-SA
unless otherwise noted.