Were you looking for the Giant Crab from Hungry Shark Evolution? Click Here
Small Crabs are creatures found in all games of the Hungry Shark series that are only found on land or sea beds. They are low level dangers that can only kill your shark with multiple nips. They can be consumed by every shark. Eating 40 crabs is required to complete the misson "Crab Clearance".
Danger Rating
Small crabs have a danger rating of Low.
Appearance in Hungry Shark World
Crabs return in Hungry Shark World. In this game, they come in several different colors. These colors include the normal red, blue, pink, and purple. They also come in small, medium, and large sizes. Despite this, none of the crabs in Hungry Shark World are as large as the giant crab from Hungry Shark Evolution. Crabs also spawn in the Arctic Ocean and the South China Sea in the form of spider crabs. Crabs in this game tend to be more aggressive.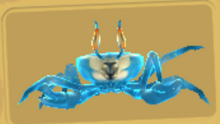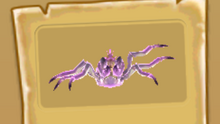 Trivia
Small crabs resemble a miniature Giant Crab.
Small crabs yield between 10-30 points when eaten.
The crunch noise made when a small crab was eaten used to be identical to the sound of a turtle being eaten. However, Future Games of London, the developers of the Hungry Shark series, changed the sound to a unique sound effect in an update. And in previous Hungry Shark games, the crabs would make a scratched metal sound when you were pinched by them.
Small crabs are found in different sizes, although there is no change in strength or danger level. However, the amount of points awarded differs.
You can only get pinched by crabs once you unlock the Hammerhead Shark
In HSW, they cannot deal damage, despite the swiping.
Community content is available under
CC-BY-SA
unless otherwise noted.