The star is an edible object in Hungry Shark Evolution that doesn't move. It is part of the special Christmas content released in the Hungry Shark Evolution Christmas update and in the arctic land portal . A star is an object much like the real world Christmas stars. They come in different colors and sizes.
As of 3.4.0,they can be found in space of both locations.,nomal and arctic
Behaviour
It doesn't move. When eaten, it rewards with some coins and points. There are three types of stars: the golden one, the red one and the light blue one. The light blue one can be found underwater and probably rewards less. The golden one is usually found floating on the air, but it's sometimes found in the deepest parts of the Christmas Wonderland/ arctic land portal and seems to give a medium reward. The red one appears out from the water and it gives more reward than the other stars. Some times the red one is found in the deepest parts of Christmas wonderland/arctic land portal. Stars can appear in different formations. From words as Wow or Cool to zigzag lines.
Stars also appear in Shawaii. here the stars have a formation: Welcome to hawaii!! when eating this (jetpack required) you will get millions of points. they also reappear quickly so you can eat this phrase twice before returning to the regular world.
Trivia
Oddly, the stars are invulnerable to the Robo Shark's mini cannon unless the explosion hit its range to the stars.
The stars emit a sound similar to the Bottle when eaten.
A mission of Alan, Destroyer of Worlds requires you to eat 250 stars using him, named "Stars Destroyed".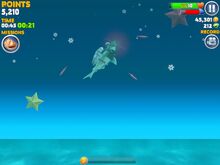 Community content is available under
CC-BY-SA
unless otherwise noted.