Teddy Bear is a sunken treasure. It is a brown teddy bear. It is one of the most heavily guarded sunken treasures, being protected by a multitude of hazardous objects and creatures.
Location
It can be found in the right end at the basic map. It is guarded by mini subs outside the cave entrance, green jellyfish at the cave entrance, some divers, many Mega Mines, and some Toxic Barrels. This makes the Teddy Bear somewhat difficult to obtain, especially for larger sharks, which cannot dodge the barrels and mines( Megalodon and above could eat the mines, but have trouble with dodging the toxic barrels) with the ease of the smaller sharks. On the other hand, smaller sharks usually can't survive on the right hand side of the map, due to the more dangerous enemies residing on the right hand side of the map.
Although it is possible, it's very hard to get it with a Reef, a Mako, an Hammerhead , Electro Shark and Tiger Shark.
Mr. Snappy can get it very easily, he is able to eat mines and dodge toxic barrels without many problems.
Moby Dick can also get this, for he can eat toxic barrels.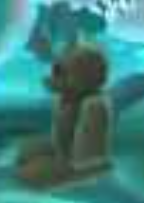 Community content is available under
CC-BY-SA
unless otherwise noted.