I got 1 million coins today! These were all obtained legitametly. I have these many coins because I didn't buy anything ever since I got the atomic shark ( except for a couple of accessories for events ). I got all of these coins from collecting all of the daily chests, doing missions, and getting gold in general. I plan on saving this money for a new shark when FGOL releases a new one.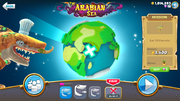 Community content is available under
CC-BY-SA
unless otherwise noted.